Until January 2022, I had never been to Memphis, Tennessee. I had never particularly wanted to go. I mean, I like Elvis, but the historic house museum of Graceland had little appeal for me. Since I'm a vegetarian, the barbeque wasn't beckoning. Sure, I like blues, but it it's not a style of music I live for. So, Memphis had never been high on my list of places to visit. Still, when we planned the Great Southern Trip for January and February of 2022, something nagged at me to spend a couple of nights there. I'm so glad we did. Memphis was full of wonderful surprises.
We started the day relatively early in quiet downtown—a rainy cold front had come through the day before and, although the clouds had blown away, the temperature was stuck in the 40s. Still, we took the opportunity to walk around a bit.
As a historian, I had heard of the historic Peabody Hotel, so we walked in – just in time, unbeknownst to us – to see the famous Peabody ducks walking across the lobby to the fountain. (You can read about their history and see better photos here, https://www.peabodymemphis.com/peabody-ducks) That was a fun surprise!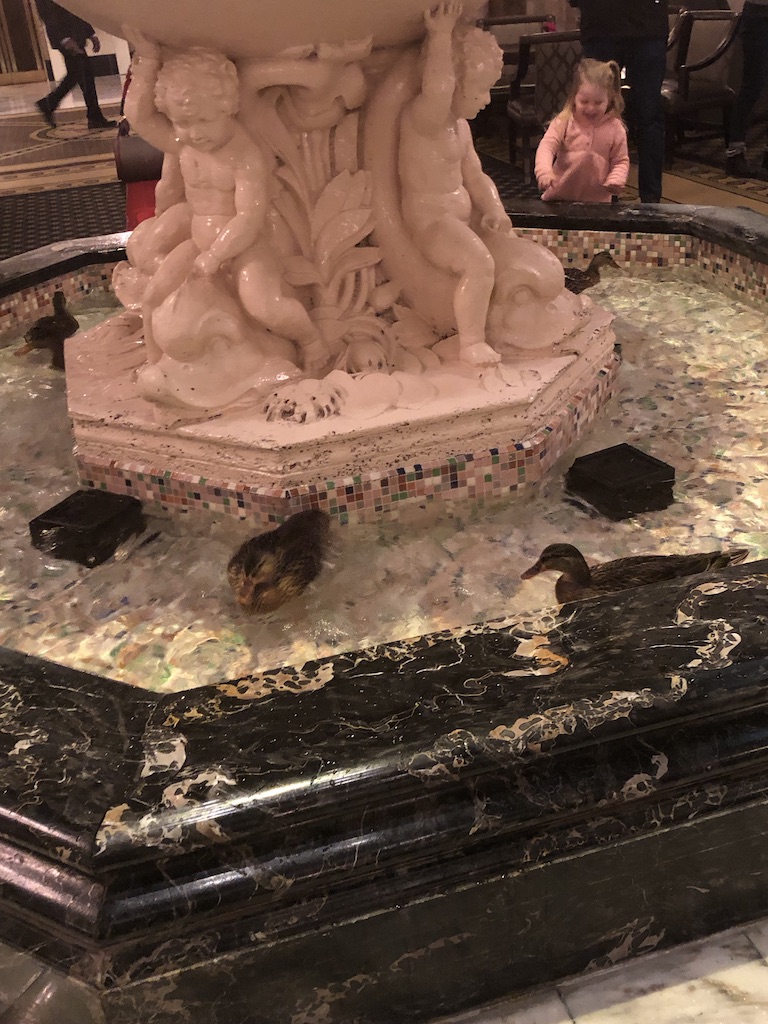 After that, went past the University of Memphis and got Bob's photo with a tiger. (Why the U of M mascot is a tiger, we do not know, but it was fun.)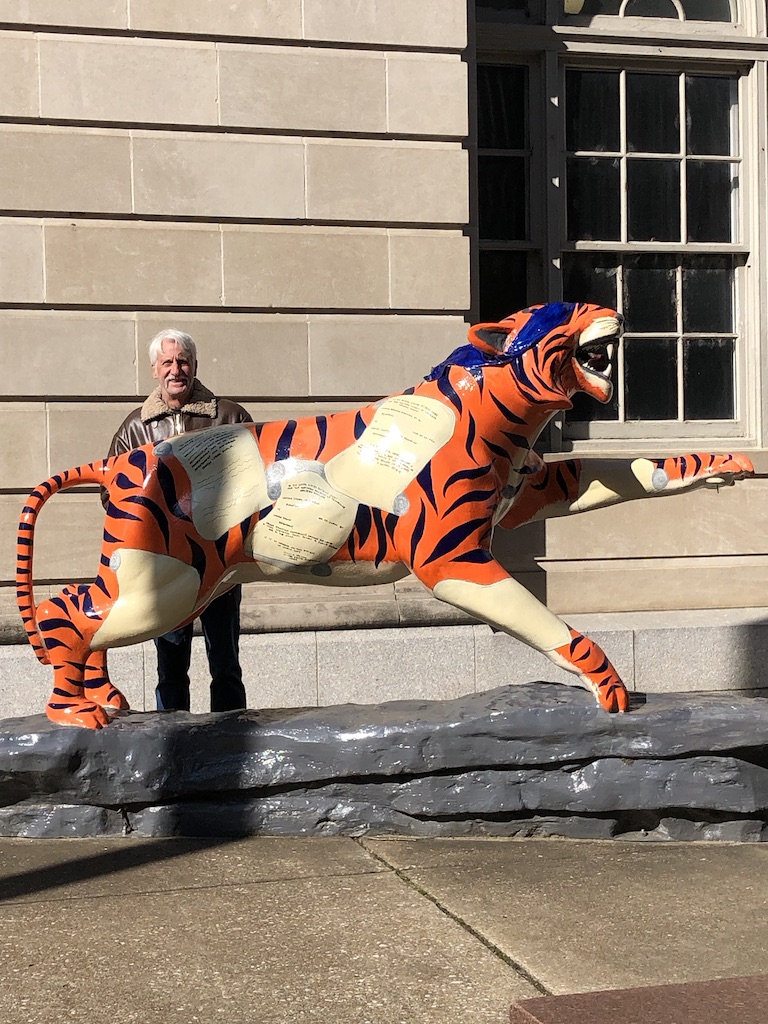 As we were walking, rather of out of the blue, our son Collin called and asked us to pick up a hat for him at the Bass Pro Shop. Now, I never would have planned to go to Memphis to visit a Bass Pro Shop, but it turns out this wasn't just any Bass Pro Shop. It's the "mothership" of Bass Pro Shops—a huge blue pyramid that is visible from planes flying over the city. As skeptical as I was, we ended up spending over two hours wandering about, buying some really nice flannel shirts and warm socks that were on sale, and watching the huge catfish swimming around. (Yes, you read that correctly. There's a lake-y, swamp-y thing inside the store – inside the store! – which also has a restaurant and hotel that looks like it belonged in Wyoming, not Tennessee.) Had Collin not asked for the hat, we never would have gone in, and then we wouldn't have had that great experience. It was a fun surprise.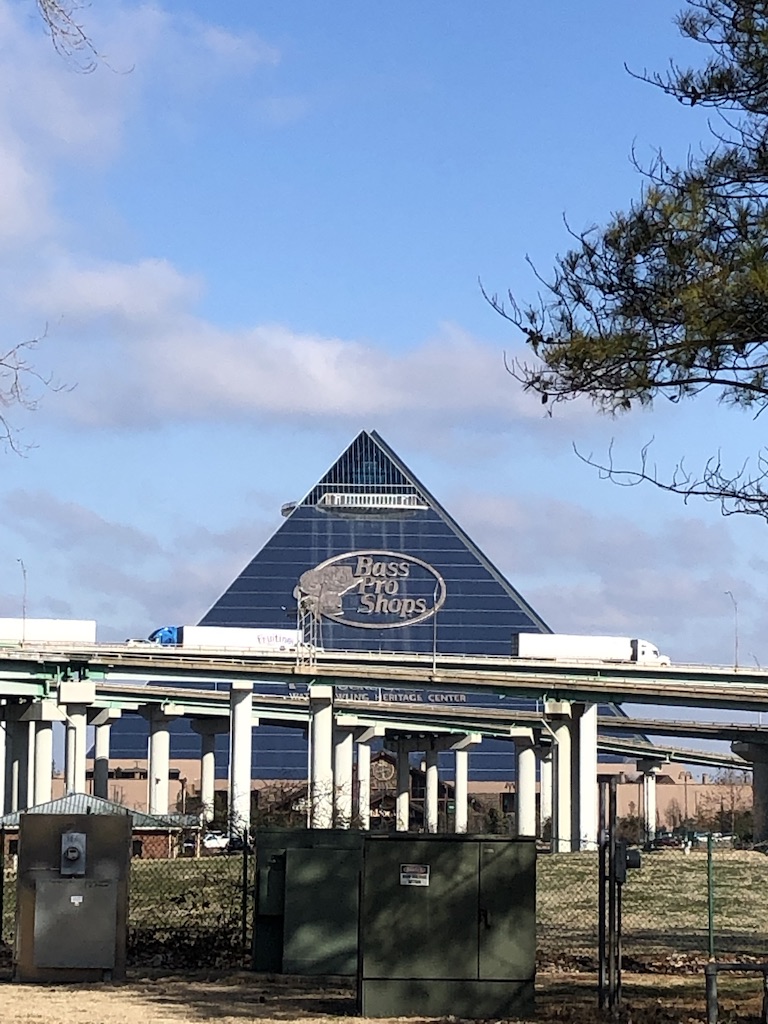 As cool as the Bass Pro Shop was, its restaurant was kind of generic. So, we headed over to Gus's World Famous Fried Chicken, https://gusfriedchicken.com/, "A Memphis Tradition," a recommendation from our hotel shuttle driver. We were so glad we did. Bob enjoyed the crispy, perfectly seasoned chicken. I enjoyed the best mac and cheese I've ever had. For a vegetarian in a southern town, that was a nice surprise.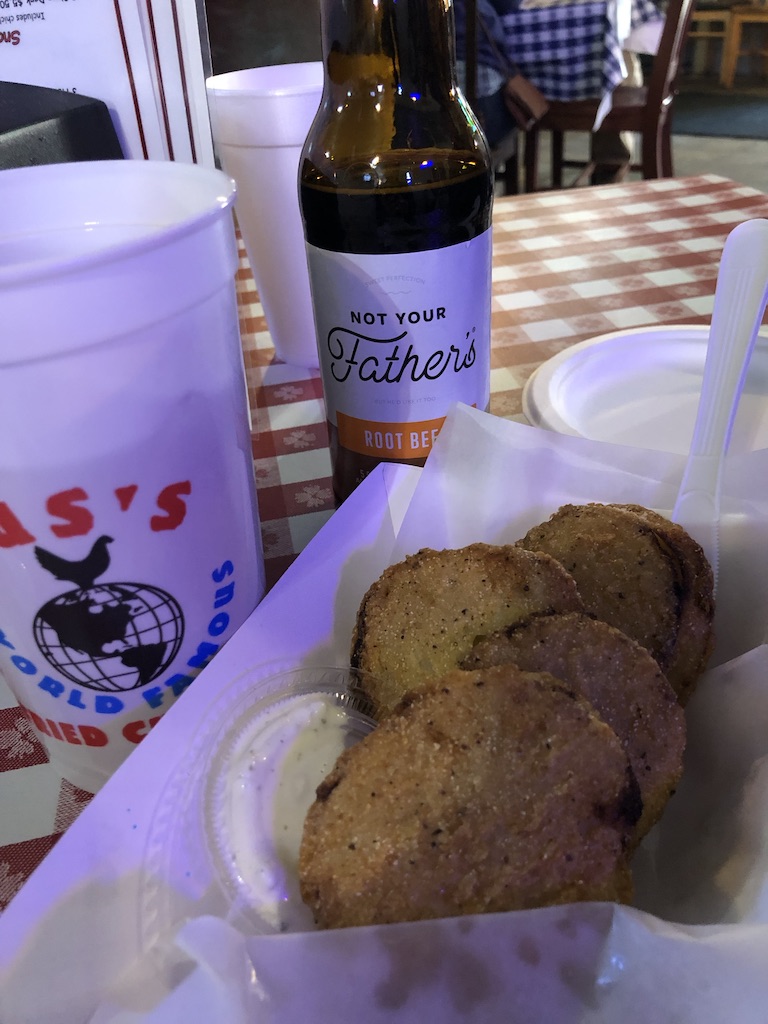 After lunch, we weren't sure what we were going to do. Again, rather out of the blue, Bob said, "Let's go to Graceland." Having no better idea, I said okay. We ordered an Uber and headed that way. Graceland isn't just the house where Elvis Presley lived. Graceland is a bazillion or so square feet of Everything Elvis in huge warehouses across the street from the house. For reference, that's where you buy tickets, not at the house. And for reference, they are surprisingly expensive.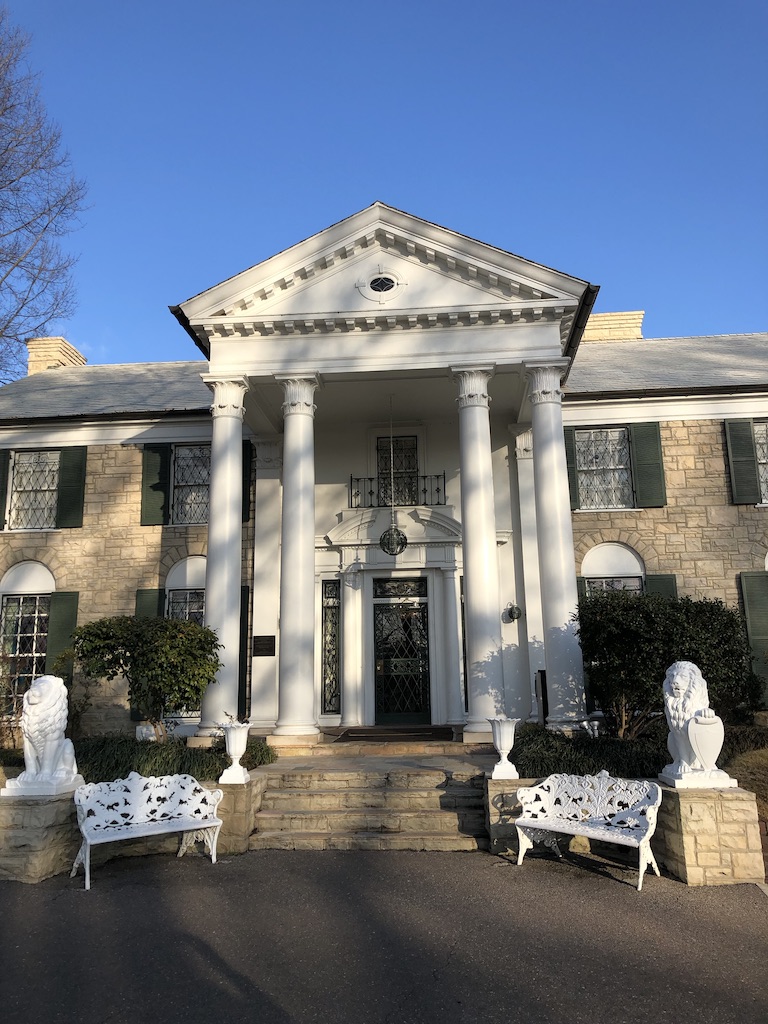 We actually didn't have enough time to see all we wanted to see. Visitors must take the bus from the "museum" side of the street over to the house. As we waited for the bus, the attendant asked us where we were from. We said Las Cruces, and he said he attended Mayfield High School. What a surprisingly small world!
We did enjoy the house tour. As big as the house looks from the outside, it's not very big inside and is rather modest. I loved the stained-glass peacocks in the living room. The house has been left pretty much as it was when Elvis passed away, including the very 1970s décor and a kitchen that could have been in any house of the 70s. I'm not sure what I expected, but Graceland proved to be a nice surprise.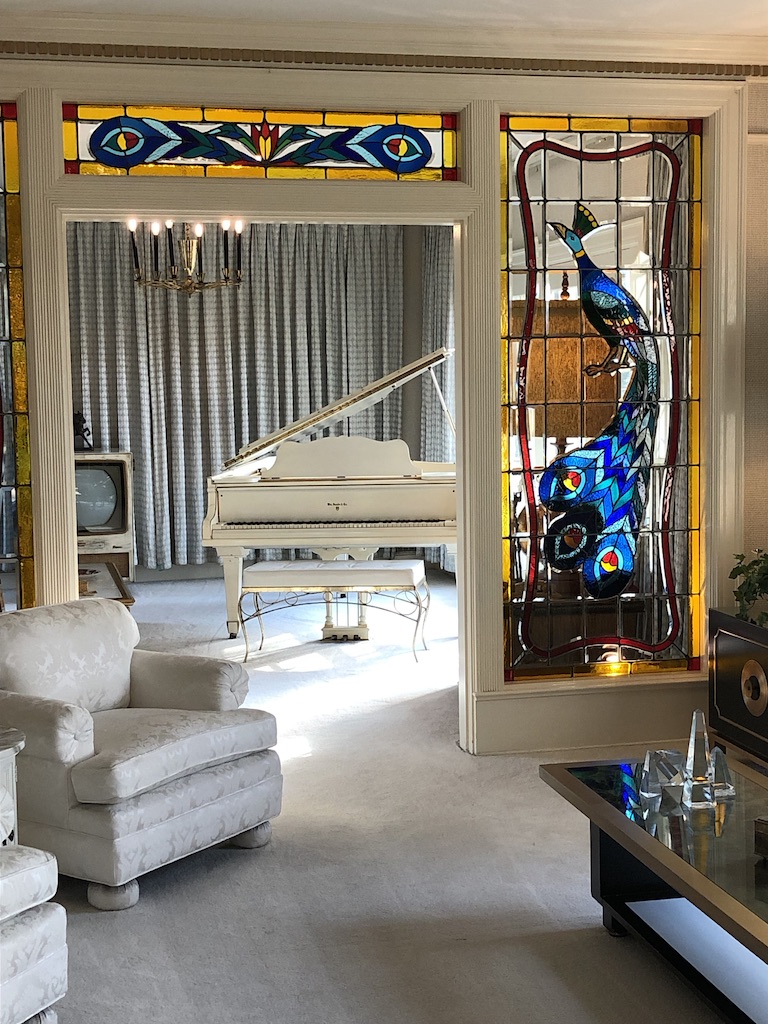 While waiting to catch the bus from the house back across the street to the museum, we chatted with a Graceland employee who worked in the archives. She dispelled a couple of myths (no, Elvis does not still live there, he really has left the building.) She also had wonderful stories about fan letters and the work she gets to do, and her admiration for Elvis. For this former museum director, that was a fun surprise.
Being us, (the goal of the Great Southern Trip was to see the 24 Hours of Daytona race), we loved seeing Elvis' cars, especially the Cadillacs. The museum just went on and on. The exhibit of musicians influenced by Elvis, full of quotes and stage costumes, also impressed us. John Lennon, Reba McIntyre—even Kiss—were featured paying homage to The King. One small room contained a grand piano, a Bible that Elvis had made notes in, and his Grammys for gospel music. That was kind of surprising.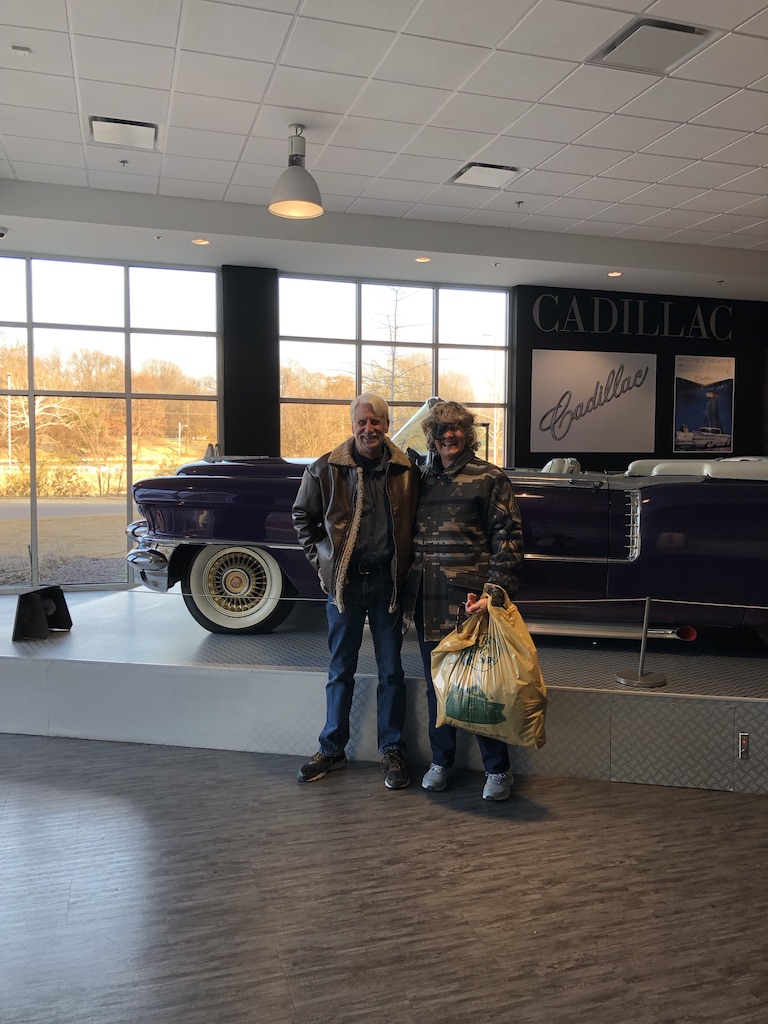 The two-story wall of gold and platinum records may not have been surprising, but it sure was impressive, probably my favorite part of the museum.
We also toured his airplanes. Yes, the sinks in the airplane lavatories have gold faucets. Yes, one day when Lisa Marie said she had never seen snow, she and Elvis flew to Denver, played in the snow, and flew back, all in the same day.
As Bob points out, what you learn about Elvis at Graceland is what Graceland wants you to learn about Elvis: His humble origins, his down-to-earth personality, his appreciation for his friends and his love of family. Still, the museum is fun, interesting, and entertaining. It was certainly worth the visit.
For dinner, we went back downtown to BB King's Blues Club. The BBQ nachos didn't do much for this green chile-loving New Mexican girl. However, the music at BB King's was just what you'd want in downtown Memphis. The band was terrific, and we enjoyed several hours of top-notch guitar, keyboard, and voice aficionados.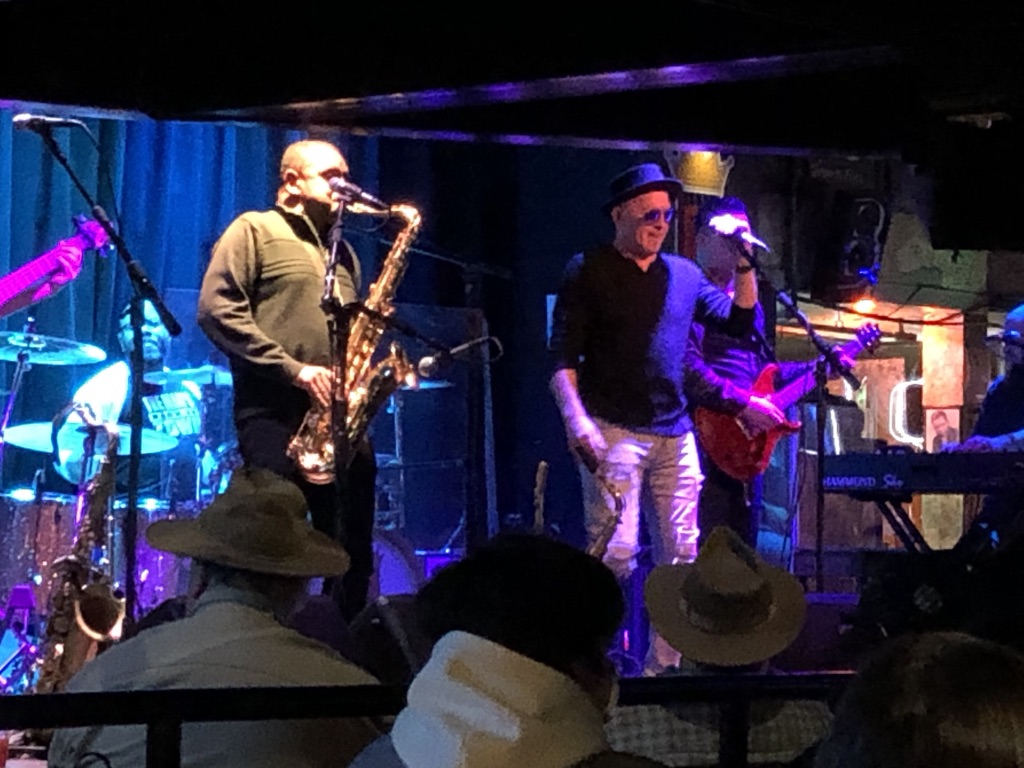 The next day, we got up and headed straight to the National Civil Rights Museum. Wow. Just wow! Twenty-seven exhibits move visitors through four hundred years of civil rights history in the United States, from when the first slaves were brought from Africa up to today. The museum, built in the hotel where Martin Luther King was assassinated, is full of fantastic exhibits, videos, and artifacts, as well as excellent analysis. There was so much information to read and to try to absorb, it was almost like being in graduate school again.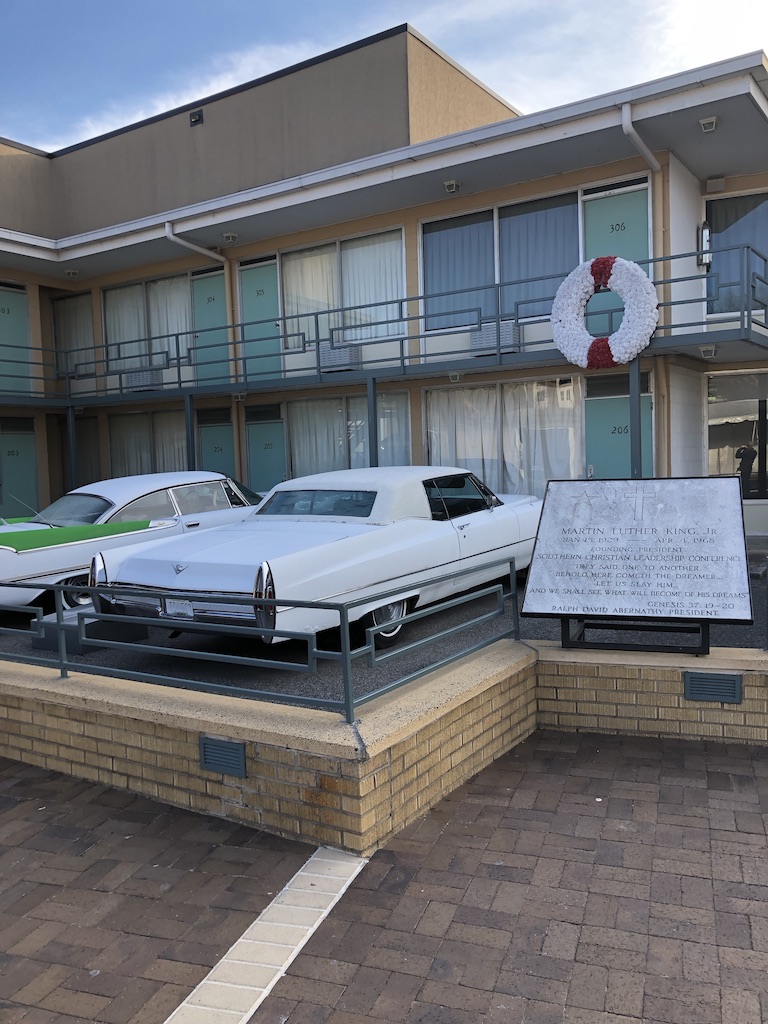 The hotel room where Dr. King was staying has been left as it was the day he was killed. It was a somber, quiet reminder of what the country experienced back then, and many exhibits showed how far we still need to go. The museum proved to be a great way to wrap up our terrific visit.
If you haven't been to Memphis, I highly recommend it. If you have, consider visiting with fresh eyes. You never know what surprises await!